SOME of Ireland's most inspiring people will share their wisdom with 100 young people from Co Clare.
The event, entitled "Thrive", is being hosted by youth wellness charity Elevate this Friday in Ennis.
Youthreach learners will hear from adventurer Gavan Hennigan, nutrition and fitness expert Leanne Moore, Elevate ambassador Podge Collins and meditation and mindfulness expert Monica Coady.
Youthreach is an integral part of the national programme of second-chance education and training in Ireland.
The programme is directed at unemployed young early school leavers aged 15-20.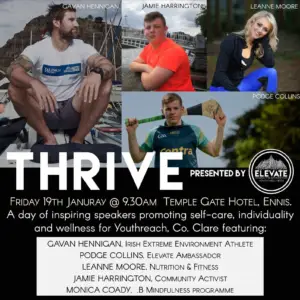 It offers participants the opportunity to identify and pursue viable options within adult life. Gavan Hennigan, one of Ireland's leading adventure athletes, is committed to delivering a significant change in the way Ireland responds to, supports and thinks about youth mental health.
Nutritional advisor and fitness expert Leanne Moore will delve into the area of health, wellness, stress, energy and productivity.
She will educate the Youthreach learners on clean foods, healthy snacks and essential ingredients to work within their everyday diet.
Jamie Harrington is an 18 year old community activist from Ballymun in north Dublin, who travels Ireland talking to young people about his own journey with mental health, how it's ok not to be ok and it's absolutely ok to ask for help.
Clare County hurler Podge Collins has become Elevate's very first ambassador.
Best known for his passion on the pitch he is now supporting an initiative close to his heart, promoting positive mental health.
His hopes are to inspire young people to realise their full potential and embrace the many opportunities, which await them in their very bright futures.
Guiding the group in a simple cleansing and grounding guided meditation is Monica Coady.
Monica has been practising mindfulness for over 10 years, and she has been teaching and lecturing in education since the 1980s.