Clare businesses expect to be hurt by the decision to cancel all click & collect services as part of lockdown measures approved by the Cabinet on Wednesday but remain determined to overcome the setback.
Click and collect has accounted for 25 to 30 percent of the online presence of Patrick Bourke Menswear, Patrick explained. As a result of the latest setback, Bourke is now considering joining up with other companies to absorb the extra charge associated with deliveries. "It is going to hurt our system until we found a way around it," he admitted.
Presently, five members of Bourke's Menswear full-time staff have been retained. Demand will determine if this number fluctuates. "On our website we're driving sales by price, we're in the middle of a shoe promotion at the money and are losing money on our shoes to get rid of them at the moment, it is a way of creating cashflow and getting rid of the ends of lines which is what we're at. I'm hoping we will be able to hold on to everybody for as long as we can".
"Nobody had ever mentioned the cancellation of click and collect before. I can see the reasoning behind it, it is to try cut down movement but unless they close down everything else as well, the movement will still be there," he told The Clare Echo. Patrick added, "We had 10 to 12 click or collects on average per day. January and February are the quietest months in retail anyway, they are only a fraction of what other months would be".
Staff at the Ennis store of Bourke's Menswear had already noticed customers were slower to arrive for their click & collect orders after Christmas when Level Five restrictions returned. "People are not moving around as much as they were, we can see it across the way there is no queue for the €2 Shop since they reopened after Christmas but no matter what time we looked out during the summer or the lockdown, there was a queue outside the €2 Shop. We're a resilient business, if there is a worry among people regarding gift vouchers and exchanges we will honour everything when we reopen, if people have a query we are in the shop between 10am and 3pm every day so they can ring us, let nobody worry in an emergency we will look after them".
For now, the focus switches entirely to online deliveries. Prior to Christmas orders were shipped to Australia, Scotland, England and Argentina. Regardless of the location, be it Buenos Aires or Barefield, each customer received a complimentary slice of chocolate biscuit cake. "It was an idea my wife came up with to promote her business and her hamper business pre-Christmas to give a little sweet treat to those who ordered from us online, we included some biscuit cake in every parcel that went out the door whether it was Click & Collect or whether it was delivery. We got some lovely comments on TrustPilot over that".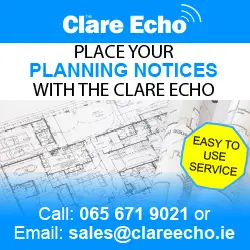 Speaking on Wednesday morning, Managing Director of Willow, Jean McCabe issued a note of caution that many small businesses would not be able to move their activity online and would lose out following the cancellation of click & collect services.
Further supports for SMEs were required during the latest stage in the pandemic, McCabe believed to "keep people employed and ensure that businesses are in a position to continue to trade". The Deputy Chair of Retail Excellence felt business owners were "fearful" of the investment, effort and expertise associated with online retail but detailed that a number of small businesses were utilising social media channels for click and collect.