*Photograph: John Mangan
Co Clare has recorded no new cases of COVID-19 for the second day in a row while nationally 7 deaths and 28 additional cases have been confirmed.
7 further deaths have occurred in the Republic of Ireland from COVID-19, the Health Protection Surveillance Centre (HPSC) have confirmed. Following the de-notification of one death, it means that 1,670 people have died in the country to date as a result of the virus.
An extra 28 cases are known to the HPSC bringing to 25,163 the total amount of individuals to test positive for Coronavirus in the country. The HPSC have said 7 cases previously confirmed have now been de-notified.
In Co Clare, as of Wednesday (June 3rd) there has been no increase in the amount of confirmed cases. 369 individuals have received a positive diagnosis for COVID-19, many of whom have since recovered.
Clare 369 (0)
Kilkenny 340 (+1)
Roscommon 337 (0)
Kerry 308 (0)
Longford 284 (0)
Laois 260 (0)
Wexford 213 (0)
Carlow 169 (0)
Waterford 154 (+2)
Sligo 129 (0)
Leitrim 83 (0)#COVID19 17/26 counties with no additional cases.

— Páraic McMahon (@thepmanofficial) June 5, 2020
Speaking at Friday's press briefing, Chief Medical Officer, Dr Tony Holohan stressed that no length of time on what classified as a short-visit would be provided. "Increasingly, this will be more about individuals and families taking on responsibilities for behaviours that can suppress the virus".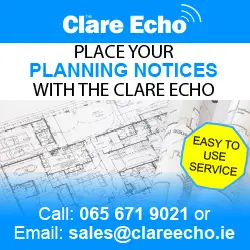 He said that cosmetic clinics offering treatment such as botox should not reopen until hair dressers and nail bars do.
"We are advising people to stay local, we don't want people across the country for holiday reasons at this time," Holohan stated when asked if people would be allowed to stay overnight from June 29th when domestic tourism is planned to reopen.
New guidance has been issued to nursing homes to facilitate visitors. "They will have to put in place those arrangements, we are moving from the situation of a blanket recommendation to where there is specific guidance".