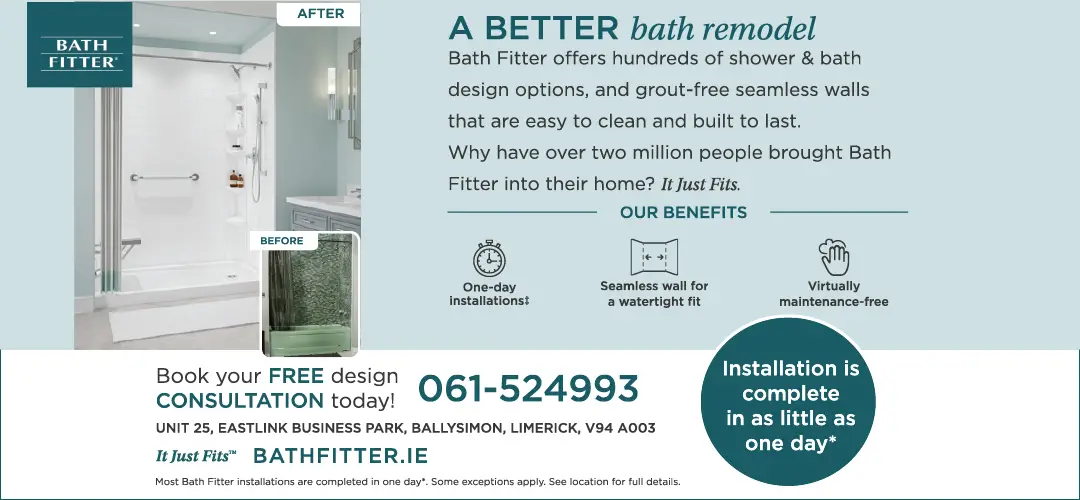 *Tubber's Aidan Forde with Killanena's Cathal Noonan. Photograph: Burren Eye Photography
Two of the teams shortlisted by many for intermediate hurling championship honours this year suffered first round defeats at the weekend.
Tubber, last year's beaten finalists lost by two points to Killanena while Corofin suffered a one point loss to Parteen.
Another of the favourites for the title, St. Josephs Doora/Barefield ran up a very impressive tally of 7-23 on their way to a big win over Clonlara. Tulla, also tipped for honours this year, had a comfortable 3-23 to 0-14 win over Cratloe.
Both Tubber and Corofin will need to bounce back to winning ways in round two to keep hopes of making the play offs alive. Tubber will play Inagh-Kilnamona next time out while Corofin's opponents will be Clonlara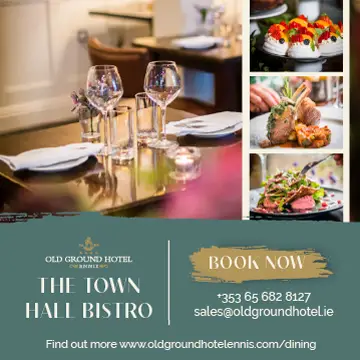 Group 1:
Killanena too strong for last year's finalists, Tubber
Killanena 2-15
Tubber 0-19
Venue: Corofin
Reduced to fourteen men early in the second half and further reduced to thirteen for the final ten minutes proved costly for favourites Tubber who went down to Killanena in this intermediate championship first round tie at Corofin on Saturday evening.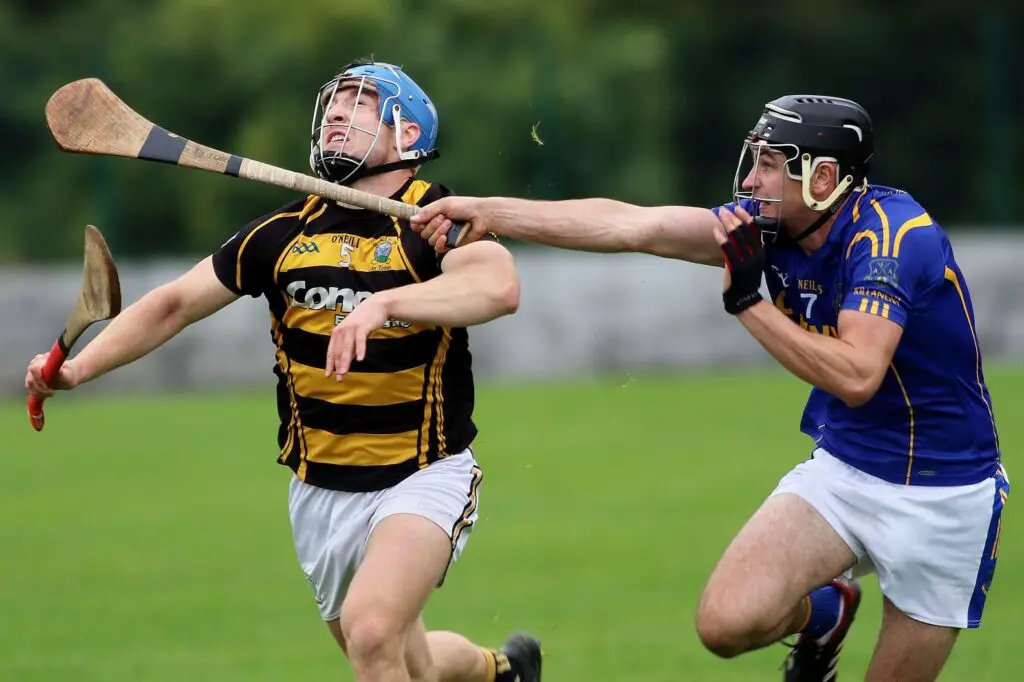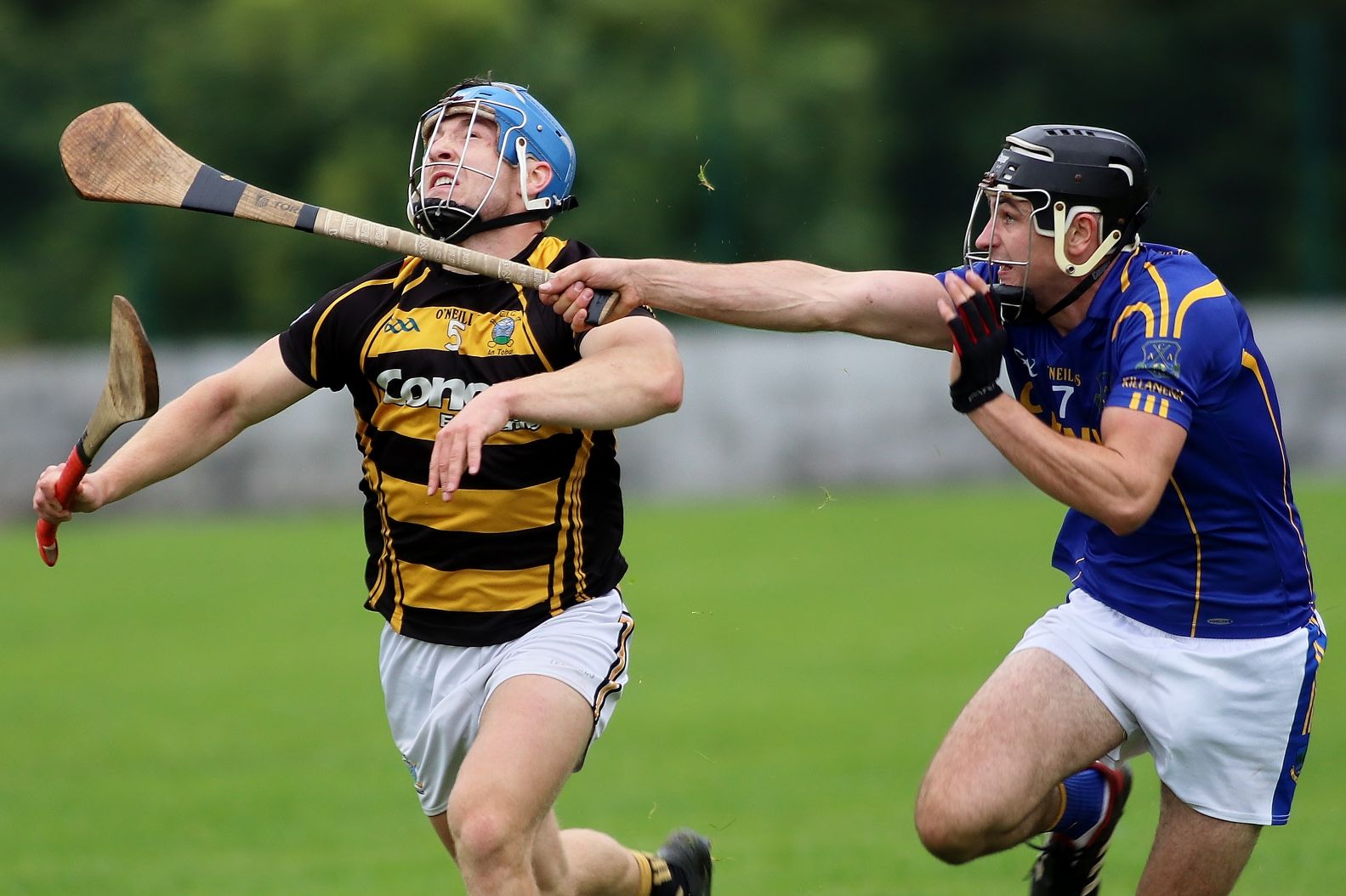 Francis McCormack was only in the game a few minutes when he picked up a straight red card early in the second half while another substitute Cathal Droney, wasn't in the game long when he suffered the same fate in the final quarter.
In what was a tight contest, the winners led from the beginning. Just a point separated the sides with ten minutes to go when Tubber goalie Ronan Taffee failed to control the ball and Killanena pounced for their second goal which pushed their lead out to four points and this proved decisive.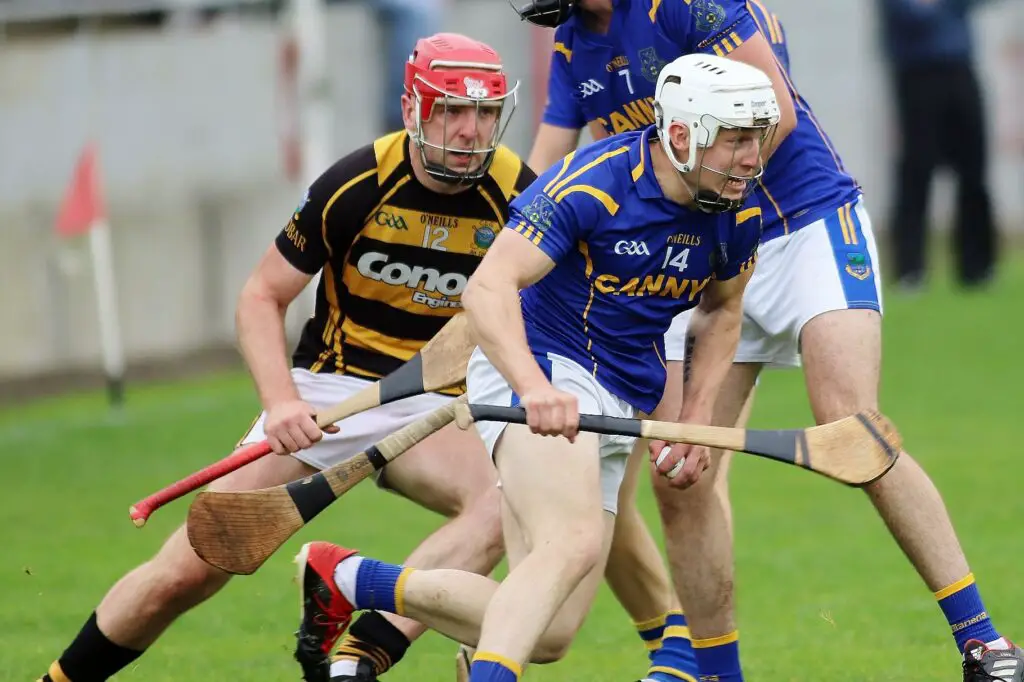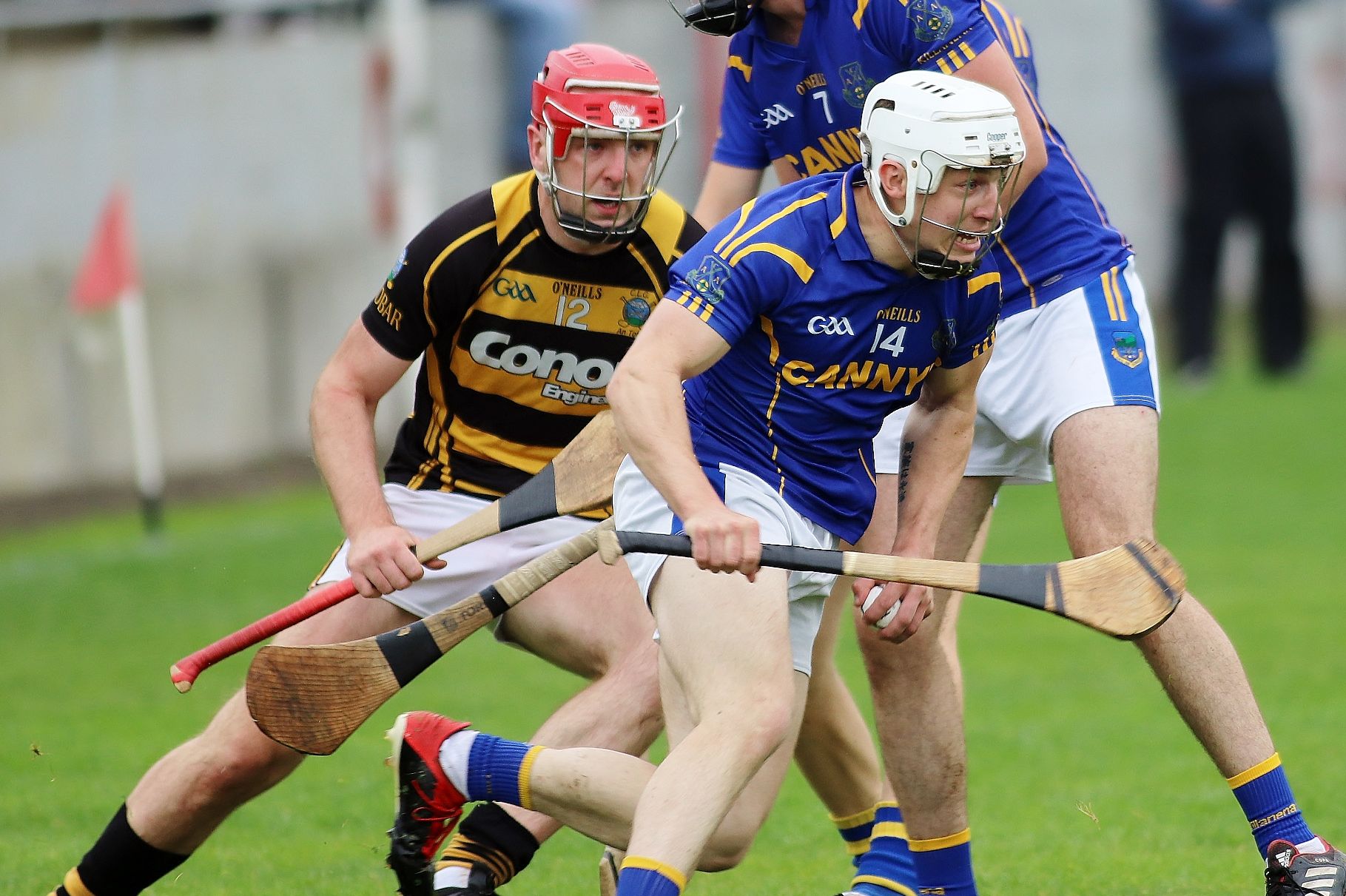 Keith Smyth who top scored for the winners with 1-2 and Martin Glynn were the goalscorers on the evening while Mark Flaherty converted three frees.
Killanena; Colm Moloney; Seamus Keane, Cathal Noonan, Jason Keehan; Ian McNamara, Tobias O'Mara, Shane Broderick; Sean Glynn, Micheal Smyth; Mark Flaherty, Darren Keehan, Martin Glynn; Donal Moloney, Todd Kelsey, Keith Smyth.
Subs: Evan McNamara for D. Moloney; Gearoid Keehan for S. Broderick; Stephen O'Brien for M. Smyth; Jamie Canny for D. Crehan;
Tubber: Ronan Taaffe; Declan Ryan, Mark Earley, Joey Droney; Ronan Monahan, Pappy Taaffe, James Howard; John Fawle, Blain Earley; Justin McMahon, Aidan McNamara, Domhnall McMahon; Clive Earley, Aidan Forde, Shane O'Connor.
Subs: Francis McCormack for J. McMahon; Cathal Droney for A. McNamara; Jonah Culligan for S. O'Connor;
Referee: Kevin Corry, Sixmilebridge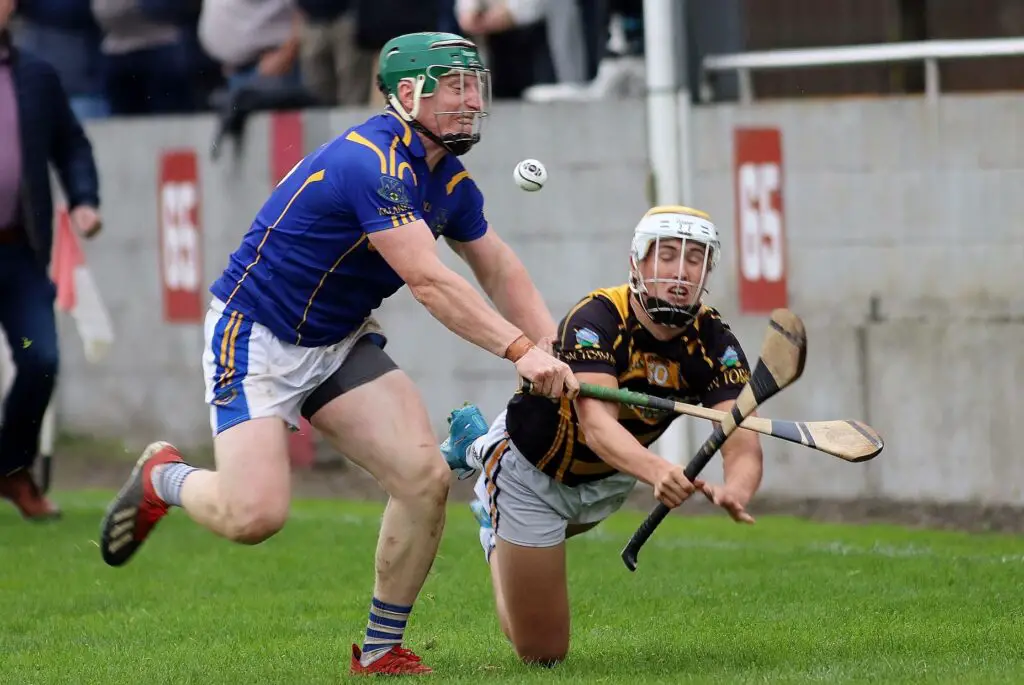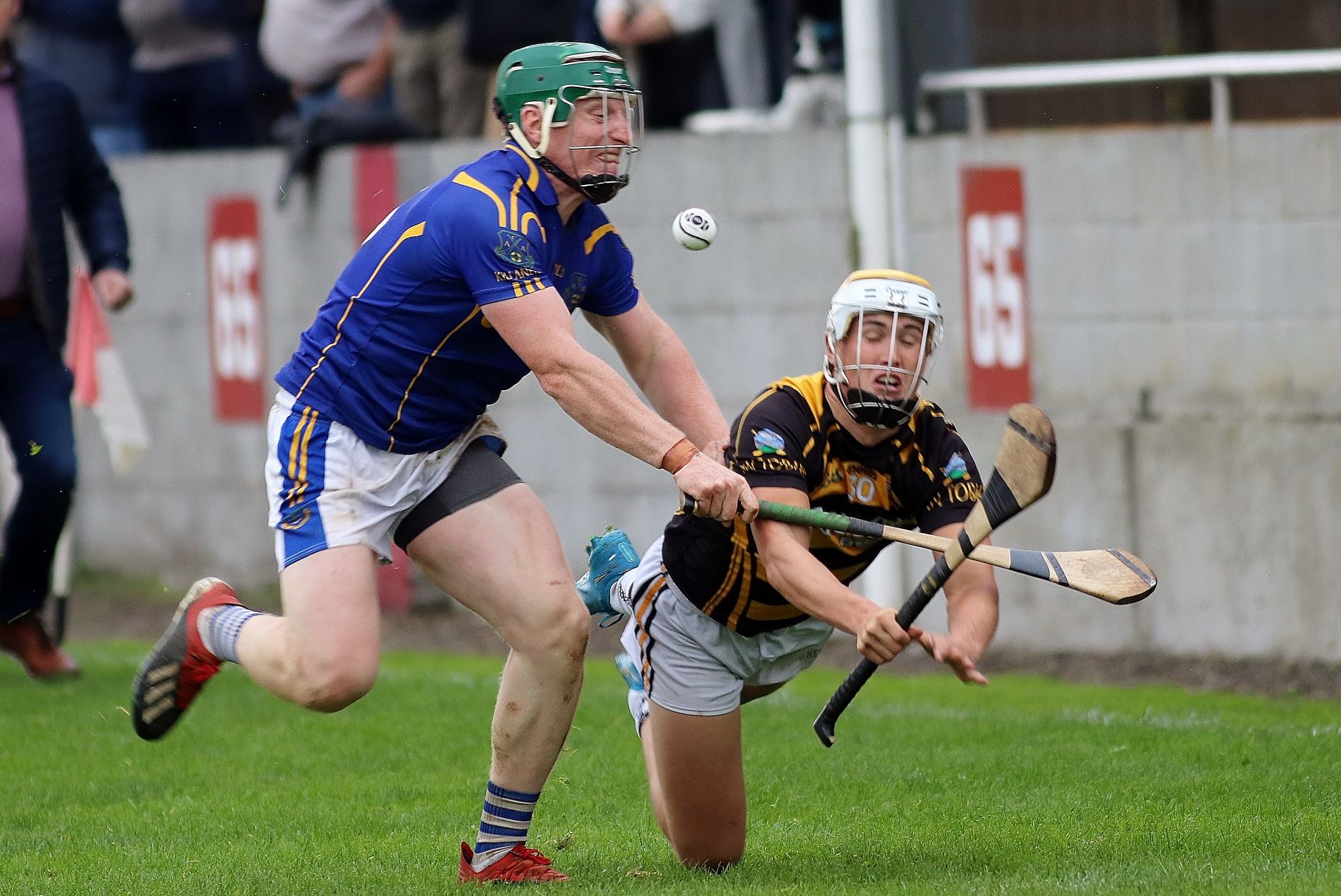 'Bridge too strong for Inagh-Kilnamona yet again
Sixmilebridge 2-20
Inagh-Kilnamona 1-14
Venue: Gurteen
Sixmileridge and Inagh/Kilnamona faced off for the third time in the past week in championship action with the U15s and U13s having already met earlier in the week and the 'Bridge continued their run of successes with a 9 point win at intermediate level when they clashed ar Gurteen.
They played with the aid of the breeze in the opening half and they had opened an eight point lead by half time when the score was 1-11 to 0-6, the goal coming from David O'Connor.
Operating with a panel of eighteen, Inagh-Kilnamona finished with thirteen players due to injuries to a number of their squad and the sending off of Brian Foudy midway through the second half.
Inagh/Kilnamona had cause for optimism at half time as they would have the assistance of the wind in the second half but a Sean Lynch goal, he finished the game with a tally of 1-10, ensured the Bridge stayed ahead by 2-14 to 1-11 at the second water break. Damian O'Halloran was the goalscorer for Inagh-Kilnamona.
Sixmilebridge: Colm Fitzgerald; Ronan Tuohy, Leon Kelly, Jordan Downes; Cillian Custy, Kevin Lynch, Danny Morey; Paul Corry, Ciaran Hassett; Sean Lynch, Cathal Lynch, Luke Keogh; Jack Corry, David O'Connor, Sean McNamara.
Subs; Adam Breen for Tuohy (inj); Rory Shanahan for Breen; Cathaoir Agnew for Keogh; Gavin Whyte for Hassett.
Inagh/Kilnamona: Joe Gallagher; Padraig Devitt, Milo Keane, Mark Barry; Colm Pilkington, Brian Foudy, Liam Hehir; Tomas Kelly, Eoin Fitzgerald; Shane Vaughan, Paul O'Looney, Ronan Mescall; Keith Barry, Barry Keating, Damian O'Halloran;
Subs: Donnacda Ryan for T. Kelly(inj) John Keane for M. Keane (inj); Jack O'Connor for L. Hehir
Referee: Jim Hickey, Cratloe
Group 2:
Reddan top scores for Smth O'Briens
Smith O'Briens 2-21
O'Callaghans Mills 1-11
Venue: Clonlara
A strong first half performance at the end of which they led by twelve points, steered Smith O'Briens to a comfortable first round victory over O'Callaghans Mills at Clonlara on Sunday evening.
Tommy Reddan was the Killaloe side's first half goalscorer in a tie in which he top scored with 1-8 to his credit, 0-7 from frees. Kevin Walsh scored the team's second half goal on an evening when Mikey O'Shea landed 0-5 from play.
Beaten semi-finalists last year, the Killaloe side are clearly determined to build on that performance this year. In round 2 they will face Cratloe before taking on one of the favourites for the title, Tulla in their final group game.
Smith O'Briens: Mark McInerney; Cathal Stritch, Cian Nolan, Evan Connolly; David Gough, Eddie Burke, Dwayne Sheedy; Micheal Ryan, Mark O'Halloran; Keith Stritch, Mike Gough, Mikey O'Shea; Tommy Reddan, John Cusack, David O'Shea
Subs: Mark Stritch for Sheedy; Patrick Aherne for Cusack; Kevin Walsh for Ryan; Paddy Gough for D. O'Shea; Cian Moloney for Connolly.
O'Callaghans Mills; Mark Pewter; Liam McNamara, Niall McNamara, Keith Donlon; Michael McMahon, Kevin O'Callaghan, Cathal Lenihan; John Cooney, Christy Philpott; Barry Heffernan, Fionn Hickey, Eoin McInerney; Jamie Keane, Ian Donlon, David McGrath;
Subs: Rory McNamara for L. McNamara; James McNamara for Heffernan; Stephen Donnellan for Philpott; Sean Murphy for Keane; Daren Cooney for I. Donlon
Referee: Gus Callaghan (Feakle)
Tulla in control
Tulla 3-23
Cratloe 0-14
Venue: Fr Murphy Memorial Park, Newmarket-on-Fergus
Tulla, one of the favourites for the title, comfortably got over the first hurdle when powering past Cratloe on Sunday afternoon.
The winners held a nine point lead at half time and by the three quarter stage they had extended their advantage to fourteen points with the score at 3-15 to 0-10.
Without the services of inter county man David McInerney due to a leg injury, they had impressive scoring from Darragh Corry with 2-4, Andrew Conheady with 1-5 and Sean Withycombe with 0-7.
Tulla: Daniel Vaughan; Kevin Conlon, Paul Lynch, Liam McInerney; Kevin Carney, Sean Torpey, Padraic Mulconry; David Meehan, Jimmy O'Gorman; William Halpin, Shane Hunt, Darragh Corry; Sean Withycombe, Andrew Conheady, Dan Withycombe;
Subs: Niall Bolton for Hunt; Cathal Dinan for Meehan; Ronan Molloy for O'Gorman; Conor Murphy for D. Withycombe.
Cratloe; James Hickey; Sean Ryan, Jack Manley, Emmett Costigan; Jamie Costigan, Kevin Danagher, Mark O'Brien; Patrick Carey, Gordon O'Neill; Jack Danagher, Barry Gleeson, Kyle Neylon; Tomas Ryan, Sean Gallagher, Mark Gallagher
Subs: Donal Organ for T. Ryan; Dominic Costigan for M. Gallagher
Referee: Johnnie Healy (Smith O'Briens)
Group 3:
Strong finish from Parteen
Parteen 1-16
Corofin 1-15
Venue: Shannon
Clare U20 panellist Jack Kirwan was the hero for Parteen as he fired over the winning point in the South Clare side's victory over Corofin at Shannon on Saturday afternoon.
It was the only time in the game that Parteen led and it gave them a victory that didn't seem likely at the three quarter stage when Corofin held a six point advantage.
Corofin were two clear, 0-5 to 0-3, at the end of the opening quarter and with the help of a goal from Kevin Heagney, they led 1-8 to 0-9 at half time.
By the three quarter stage they were 1-14 to 0-11 ahead but from here to the finish Parteen dominated landing the last six scores. Nathan Fox was the winner's goalscorer on the day
Scorers Parteen; Evan Fitzgerald (0-9); Nathan Fox (1-0), Joe O'Connor (0-3); Jack Kirwan (0-2), Gearoid Ruddy, Daniel Cooney (0-1) each
Scorers Corofin; Gearoid Cahill (0-6), Kevin Heagney (1-2); Kevin Keane (0-3); Diarmuid Cahill, Micheal Kelly, Cillian McGroary, Shane O'Brien (0-1) each
Parteen; Alan Murnane; Eanna Mulvihill, Paul McDonald, Oisin Hickey; Tom Collins, Dara McDermott, Gavin Rackard; Joe O'Connor, Eoin Phelan; Nathan Fox, Phil Lavin, Gearoid Ruddy; Evan Fitzgerald, Jack Kirwan, Noel Bridgeman
Subs; Daniel Cooney for E. Phelan; Shane Fox for Lavin; Sean Connolly for Bridgeman
Corofin; Darren Malone; Mark O'Loughlin, Cian O'Dea, Conor Leen; Damian O'Loughlin, Fionn Clancy, Damian Ryan; Michael Kelly, Cillian McGroary; Shane O'Brien, Gearoid Cahill, Diarmuid Cahill; Kevin Heagney, Kevin Keane, Gearoid Kelly;
Sub; Micheal Duffy for Leen
Referee: Eoghan O'Leary (Whitegate)
Six goal Tierney leads the way for St. Josephs
St. Josephs Doora/Barefield 7-23
Clonlara 1-12
Venue: Broadford
Hot favourites in many people's view for this championship, St. Josephs, Doora-Barefoeld put down a clear marker as to their intentions at Broadford on Sunday evening when they dished out a 29 point drubbing to Clonlara.
Six goals from corner forward Conor Tierney who also scored two points led the way on the scoreboard while the winner's other corner forward Cathal Ruane accounted for 0-11. Tom Hannan was also in scoring form, contributing 1-6 to the Doora-Barefield side's impressive tally.
Micheal Stritch accounted for Clonlara's goal on an evening when they were comprehensively beaten.
St. Josephs Doora/Barefield: Paul Madden; Fionn Kelleher, Aaron Landy, Joey Keane; Alan O'Neill, Dara O'Shea, Keelan Butler; Donal O'Halloran, Mossy Hehir; Brian Guilfoyle, Tom Hannan, Eoin Hanrahan; Conor Tierney, Eoin Thynne, Cathal Ruane.
Subs: Adam Mungovan for O'Neill, Conor Kearns for Butler; Peter Collins for Keane.
Clonlara; Seimi Gully; Patrick Conlon, Mike Stritch, Michael Clancy; Tom Egan, Sean Moriarty, Ger Powell; James Hastings, Sean Begley; Daniel Moloney, Brian McLeish, Kieran O'Brien; Micheal Stritch, Louis Mc Cormack, Tommy Lynch;
Subs: Tom Power for Hastings; Eoin Meehan for McLeish; Jack Hackett for Egan; McLeish for Meehan; Egan for Moriarty
Referee; Fergal Gray, Feakle
Group 4:
All so easy for Ruan
Ruan 5-22
Clarecastle 1-7
Venue: Éire Óg, Ennis
Ruan were always in control against Clarecastle in this first round game played at Eire Og on Saturday evening.
They had a twelve point advantage at the halfway point when the score was 1-13 to 0-4 and they continued to dominate after the break and scored four goals in that second half.
Central attackers Shane Punch and Aidan Lynch both scored two goals while the other goalscorer was Ryan Power.
Ruan: Cian O'Donoghue; Killian Ryan, Michael Lyons, Jason Power; Conal Ó hÁiniféin, Ashley Brohan, Colm Rice; Robin Mounsey, Patrick O'Halloran; Mark Corry, Shane Punch, Ryan Power; Jack McDonagh, Aidan Lynch, Dara Roughan.
Subs: Shane Ryan for K. Ryan (45); Michael Barrow for O'Halloran (50)
Clarecastle; Jonathan Griffey; Joe Barry, Mark Russell, Filip Wiechcinski; Patrick Maxwell, Cian Donnelly, Barry Morrissey; Darragh Holland, Sam Browne; Harry Ward, Brian Lynch, Jamie O'Connor; Conor Whelan, Mark O'Loughlin, Sean Egan
Subs: Cian McNamara for B. Lynch; Ronan Garvey for H Ward; Darragh Dolan for Egan; Gareth Guinnane for J. O'Connor
Referee: Ger Hoey, Killanena
A winning start for Bodyke
Bodyke 4-17
Newmarket-on-Fergus 3-10
Venue: Michael O'Hehir Park, Cratloe
Bodyke's attempt to return to the knockout stages for the second year in a row took a big step forward at Cratloe when they accounted for Newmarket-on-Fergus with ten points to spare on Sunday afternoon.
A win of this margin was not expected by Bodyke when they travelled to Cratloe but they showed the greater appetite and application to run out comprehensive winners. Wing-back Cian Minogue was to the fore for Francie O'Halloran's side, indeed a superb sideline cut that went from his half of the field to the opposing 21m line resulted in their opening goal by Patrick Fitzgerald who found the net again in the second half.
Newmarket-on-Fergus rattled the net in the first minute when a James Freeman delivery was secured by Noel Frawley who tore past the East Clare men.
Already dented by losing three players to the senior side, the momentum from Frawley's goal was deflated when both James Warren and Mark Delaney retired through injury.
Slack defending from Newmarket allowed Jamie O'Donnell and Tiarnan Slattery hit the back of the net in the second quarter while at the other end Frawley stuck another one past Seamus Quigley. It was insufficient however as the East Clare men held a comfortable 3-06 2-04 advantage.
Bodyke: Seamus Quigley; William Fitzgerald, Sean Wiley, Éanna Doyle; Kevin Drost, Seanie Doyle, Cian Minogue (0-2); Cathal Doyle (0-2), Thomas Minogue; Cathal McKenna, Fionn Slattery (0-2), Patrick Fitzgerald (2-6 3f); James O'Donnell (1-2), Liam O'Donnell (0-1), Tiarnan Slattery (1-2).
Subs; Peter Flower for C.McKenna; Oisin Slattery for C. Doyle; Gavin Moroney for W.Fitzgerald;
Newmarket-on-Fergus: Padraic Guilfoyle (1-0 Pen); Alan O'Flanagan, James Warren, Mark Delaney; Martin Frawley, James Freeman, Kieran McMahon; Shane Lynch (0-1), Cathal Finucane; James Power (0-5 5f), Noel Frawley (2-1), Sol Frost; David McNamara, James Liddy (0-1), Cian Foley.
Subs: Oisin Pender for Warren (Inj), Alan McInerney for Delaney (Inj), Cathal Hayes for Foley, Seadhna Liddy (0-1) for Frost, Jamie Power (0-1) for Power.
Referee: Kevin Corry (Sixmilebridge)