*Pat Breen. Photograph: Joe Buckley
Former Clare TD, Pat Breen has announced he will be retiring from political life.
After more than 20 years of public service, the Minister of State with special responsibility for Trade, Employment, Business, EU Digital Single Market and Data Protection will pursue other opportunities when the next Government is formed.
First elected to the Dáil in 2002, Pat was appointed as Chairman of the Oireachtas Foreign Affairs and Trade Committee in 2011. He also served as the Party's Deputy Spokesperson on Transport and Enterprise, Trade and Employment with special responsibility for small business.
He has been on a number of Dáil Committees including the European Affairs Committee, the Oireachtas Transport Committee, the Privileges and Procedures Committee, the House Services Committee and the Committee on Enterprise and Small Business. Pat was also appointed to lead the Fine Gael Delegation on the Council of Europe and served as Deputy Leader of the Irish Delegation.
Prior to Breen's election to Dáil Eireann, he was a member of Clare County Council and the Vocational Educational Committee from June 1999 to 2002.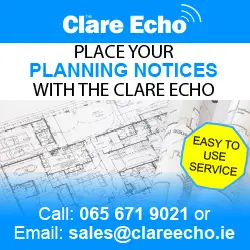 Speaking on Tuesday, the Ballynacally native outlined, "I have taken some time to reflect and have decided to retire from political life. I will be continuing with my duties as Minister of State until the next Government is formed. I have informed the Taoiseach of my decision and he thanked me for my loyal years of service to the party at both local and national level and wished me well in the future.
"I have enjoyed politics and its many challenges. It has been an honour and privilege to represent the people of Clare and the Fine Gael party as a county councillor, TD in Dáil Éireann and then as a Minister of State over the last 20 years. Most recently, it was tremendous for myself and the three Ministers I served under to see that the unemployment rate fell to 4.8% during my time in the Department."