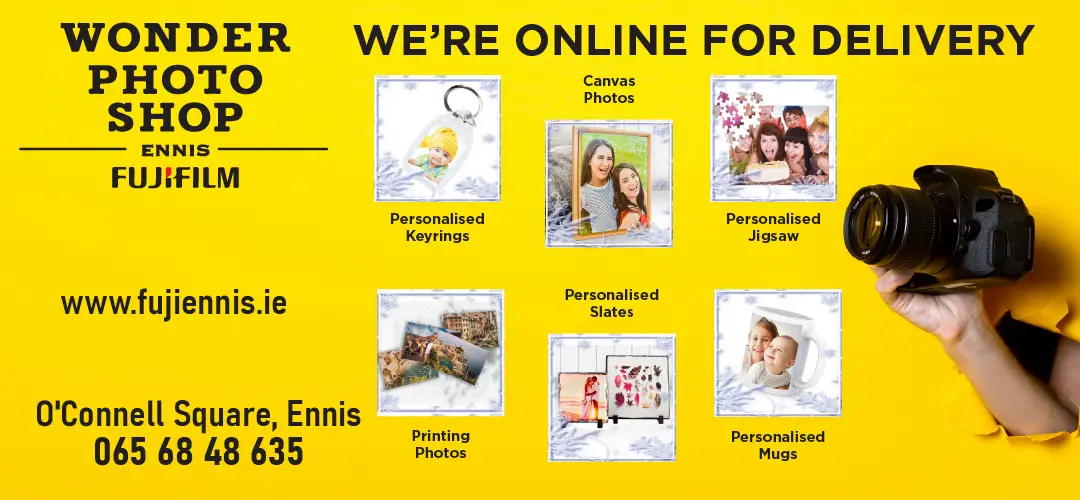 *Photograph: Sean Curtin / True Media
An increase in the amount of COVID-19 cases in Clare has been recorded, the Department of Health have confirmed.
69 new cases have been confirmed by the Department of Health on Wednesday evening. These are located in Offaly (22), Kildare (19), Laois (8), Dublin (6) with the remaining 14 cases located in Clare, Cork, Donegal, Galway, Limerick, Louth, Meath and Wexford. The precise detail on the amount of new cases in Clare will be provided tomorrow by the Health Protection Surveillance Centre, it is believed that the figure is no more than 2.
The Clare Echo has contacted the Department of Health to try obtain more detailed information on the amount of new cases.
From Wednesday's cases, 65% are under the age of 45, 37 are men and 31 are women. 39 of them are associated with previous outbreaks or close contacts of confirmed cases. A total of 26,372 persons have tested positive for the virus since March.
Health officials have revealed that five people with COVID-19 have died. A total of 1,768 people have died as a result of the virus.

Within the past 14 days, 226 cases have arisen in Kildare, Laois and Offaly representing almost half of all cases in the country for that period. Speaking at Wednesday's press briefing, Dr Ronan Glynn urged people in the three counties to be extra considerate of if they are showing symptoms and to present for a test if necessary. "While the majority of these cases can be accounted for by outbreaks, this volume of cases is significant and our main priority now is to ensure that these outbreaks do not lead to widespread community transmission in the region".
Potential of regionalised restrictions in the future were not ruled out by the Acting Chief Medical Officer.
Clare 399 (0)
Kilkenny 357 (0)
Roscommon 346 (0)
Kerry 318 (0)
Laois 314 (0)
Longford 288 (0)
Wexford 235 (+11)
Carlow 180 (+1)
Waterford 166 (0)
Sligo 153 (+2)
Leitrim 85 (0)#COVID19 no additional cases in 13/26 counties as per Tuesday's figures.

— Páraic McMahon (@thepmanofficial) August 6, 2020
Chair of the NPHET Irish Epidemiological Modelling Advisory Group, Professor Phillip Nolan noted, "We've seen a sharp increase in the number of cases being reported". The average number of cases per day "has almost doubled" with an average number of 56 cases per day. The amount of personnel in hospital has stopped declining, he said with on average two people daily admitted to hospital.
With regard to ICU admissions, Prof Nolan stated the figures were "fortunately very low". One death is being reported every five days based on the date, he outlined. The vast majority of new cases are due to close contact with a confirmed case.
He added, "The reproduction number for the virus is now estimated to be 1.8. A reproduction number of almost 2 is a serious concern, and although we have not yet seen a significant increase in community transmission, there is a significant risk this could develop over the coming days and weeks emphasising the need for each of us to be extremely cautious that we do not contribute to the transmission of the virus".