*Photograph: John Mangan
Clare is among the counties in which 56 new cases of COVID-19 have been recorded.
A further two deaths of individuals that had COVID-19 have been recorded while the same amount of deaths have been de-notified by the Health Protection Surveillance Centre. It means that to date 1,775 people have died across the Republic of Ireland due to the virus.
Officials have been notified of 54 cases in the past 24 hours. These are located in Dublin (19), Kildare (8) and Tipperary (5) with the remaining 22 in Clare, Carlow, Donegal, Kerry, Kilkenny, Laois, Limerick, Longford, Louth, Meath, Offaly, Waterford and Wexford.
No confirmation has been issued by the Department of Health onto the exact amount of cases in Clare but the figure is believed to be no more than two. Prior to today's development, 439 persons have tested positive for the virus in the county.
Donegal 505 (0)
Clare 439 (+7)
Kilkenny 376 (+4)
Laois 363 (+1)
Roscommon 349 (-1)
Kerry 322 (+1)
Longford 290 (0)
Wexford 251 (+4)
Carlow 208 (+4)
Waterford 171 (+3)
Sligo 156 (0)
Leitrim 85 (0)#COVID19 no additional cases in 11/26 counties as per Monday's figures.

— Páraic McMahon (@thepmanofficial) August 19, 2020
Explaining the reasoning for introducing 'tightened restrictions', Acting Chief Medical Officer, Dr Ronan Glynn stated, "To save lives and suppress this virus we need everyone to reduce the number of people they meet over the next three weeks. A collective effort by households and by employers and organisations can make a huge impact on community transmission, and help to protect our families and communities from COVID-19.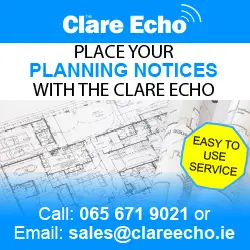 "You can still play sport, go to a restaurant and meet friends, but we are asking you to do this in as safe a way as possible. Specifically focus on two numbers – 6 and 15. Do not have more than 6 people over to your house and garden, and outside, no more than 15 people should meet up, and even then you should remain socially distanced from one another".