With Brexit looming, concern has been expressed with Shannon's lack of air connectivity with the rest of Europe.
Shannon Airport currently has UK hub connectivity through London Heathrow, but following Britain's exit from the European Union the airport will be without connectivity into an EU hub. Shannon Group has appealed to the Government to safeguard its connectivity within the continent.
Fine Gael's John Crowe called on Shannon Group plc and the Department of Transport to secure a route from Shannon to France in advance of Brexit. "It is an absolute disgrace there is no flights from Shannon to France. Ten different parishes in Clare are twinned with parts of France. In Sixmilebridge we had 50 people fly over last year, they had to go Dublin and travel by bus all the way down. With Brexit, France will be our nearest neighbours. We haven't one flight from Shannon to any part of France, it is an absolute disgrace in this day and age, we need it for connectivity. France is a very popular destination for Irish tourists, how can we expect to have growth when we haven't flights to a country like France", he said at the adjourned November meeting of Clare County Council.
His views were supported by Cllr PJ Ryan, "It's definitely time we had connectivity between Co Clare and France. There seems to be a big reluctance. If Brexit goes through, we're going to need extra connectivity to Europe."
Fianna Fáil's Pat McMahon added, "The Minister has to give us a break, they need to give a major airport outside of Dublin a break". His party colleague, Pat Daly recalled, "The flight to Paris was a very successful route and it just went, I don't know what happened".
"We were advised by airlines that they will fly to the capital, the airlines decide for themselves. Maybe councillor Crowe's Government can do something to enhance the Airport and encourage more people to fly to the West of Ireland", Cllr Gerry Flynn remarked. Cllr Gabriel Keating's suggestion for the item to be on the agenda for the next meeting of the Economic SPC was welcomed.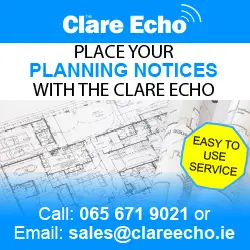 Responding to a query from The Clare Echo, a spokesperson for Shannon Airport said they are well aware of the need to strengthen their European connectivity. "While European connectivity is currently serviced through the London Heathrow hub, the reality is that in a post Brexit situation, the West of Ireland will be without this critical EU connectivity. We are engaging with Government on specific asks for a connectivity funding programme to secure strategic routes.
"We are looking for the mechanism to be put in place to ensure connectivity to a key European hub is in place for the West of Ireland. In light of the challenges Ireland would face from Brexit, particularly a hard-Brexit, it is of paramount importance that we safeguard our European connectivity. The Government's Project Ireland 2040 recognises the fact that strong regions are the bedrock of a strong national economy. We believe that a strategic route development fund and regional tourism targets are essential and we would welcome Government's and stakeholder support to see these asks implemented".